"Mangrove Care Villages will also be formed as a spearhead of sustainable mangrove rehabilitation."
Indonesia, which is home to one of the world's largest mangrove forests, has set a target of rehabilitating 150 thousand hectares (ha) of its area under mangroves in 2021.
Based on data recorded in 2011, about three million hectares of mangrove forests can be found along 95 thousand kilometers of Indonesia's coastal areas, constituting 23 percent of the world's mangrove ecosystem. Papua, Kalimantan, and Sumatra Islands are considered the most crucial regional mangrove ecosystems.
This year's ambitious mangrove rehabilitation program, which will be carried out particularly in critical and tsunami-prone areas, was announced by Coordinating Maritime Affairs and Investment Minister, Luhut Binsar Pandjaitan, during a recent coordination meeting held to discuss the accelerated program.
The online meeting was attended by Minister of Environmental Affairs and Forestry, Siti Nurbaya, Minister of Marine Affairs and Fisheries, Wahyu Trenggono, representatives from the Home Affairs Ministry and the National Development Planning Ministry/Bappenas, and head representative of the World Bank for Indonesia and Timor Leste, Satu Kahkonen.
About 84 percent of the funding for the 2021 mangrove rehabilitation program will be sourced from the State Budget (APBN), including from the Additional Assistance Budget (ABT), through the National Economic Recovery Program (PEN), while the remaining 16 percent will be derived from non-APBN sources.
Pandjaitan has urged local governments across the country to support the mangrove rehabilitation program.
"We urge the Ministry of Home Affairs to coordinate, so that the provinces and districts will also help maintain the mangroves, and they will also reap the fruits of this program, as it creates jobs," he remarked.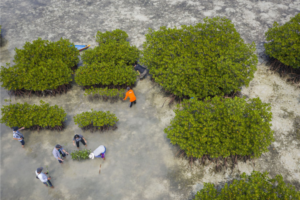 The minister also discussed the carbon credit potential that could be optimized through the program. To this end, the Ministry of Environment and Forestry will identify suitable locations to serve as pilot projects for carbon trading, and regulations are also being prepared to regulate carbon trading activities, he said.
Meanwhile, Environmental Affairs and Forestry Minister Nurbaya has emphasized the importance of the public gaining a comprehensive understanding of the program that has drawn international attention owing to its effect on the climate change agenda.
"The good news is that climate change in Indonesia is considered to be in the medium category. We have nearly become a role model country for good (mitigation of) climate change," she affirmed.
Keeping carbon stored is vital for keeping global warming in check and meeting targets under the U.N. Paris Agreement on climate change, according to scientists.
Indonesia's mangrove forests store around 3.14 billion metric tons of carbon (PgC), or five times more carbon per hectare than highland tropical forests, according to Daniel Murdiyarso, a long-time principal scientist at the Center for International Forestry Research (CIFOR) and a leading wetlands expert.
Mangroves, however, have been disappearing more quickly than inland tropical rainforests, particularly due to clear-cutting for shrimp farms.
The loss of mangroves has led to a decline in fisheries, degradation of clean water supply, salinization of coastal soils, erosion and land subsidence, as well as increase in gas emissions, among other things.
As high carbon storage ecosystems, peatland and mangrove ecosystems have a strategic role as nature-based solutions for climate mitigation and adaptation. Peatlands and mangroves store up to two to 10 times more carbon than forests.
Given the significant role of mangrove and peatland ecosystems, the government has recently converted the Peatland Restoration Agency (BRG) into Peatland and Mangrove Restoration Agency (BRGM).
"Peatland restoration and mangrove rehabilitation at several places are interrelated. This is because the nature of these ecosystems are connected. Hence, we will maximize our efforts to conduct synergistic activities in the two ecosystems," BRGM head Hartono remarked.
BRGM has highlighted that six strategies will be applied to expedite mangrove rehabilitation, in accordance with the instructions of President Joko Widodo (Jokowi).
The six strategies comprise conducting coordination and data synchronization among ministries and agencies, macro planning and details of mangrove rehabilitation, and spreading education and disseminating information on the mangrove movement.
"Mangrove Care Villages will also be formed as a spearhead of sustainable mangrove rehabilitation," Hartono informed at the Thought Leadership Forum held by the Nusantara Nature Conservation Foundation.
Synergized rehabilitation of mangroves will be conducted by involving relevant ministries, local governments, the private sector, and NGOs, he said. The agency will also develop an instrument for a measurable and continuous mangrove rehabilitation program, he added.
Meanwhile, the National Development Planning Agency (Bappenas) is drafting a roadmap for the management of wetlands for mangrove and peatland forests to support the reduction of greenhouse gas emissions.
"The roadmap is one of the instruments supporting the important pillars to achieve Indonesia's Vision 2045, namely sustainable economic development," Bappenas deputy head for maritime affairs and natural resources, Arifin Rudiyanto, said on February 2, 2021.
Mangrove and peatland ecosystems have multiple benefits, which can potentially support several areas, including economic growth, creative economy, tourism, maritime interests, food security, water resources, and the environment, he said.
Mangroves and peatlands also benefit the national economy, the environment, and social life, including supporting mitigation and adaptation to climate change, he pointed out.
Hence, the roadmap for the management of wetlands will be drafted to also serve as a long-term guidance to support the achievement of the vision, he said.
Three working groups will supervise the formulation and implementation of the roadmap in collaboration and consultation with ministries and institutions that have adopted a strategy, management plan, and data related to the mangrove and peatland ecosystem, Rudiyanto said.
Bappenas had set up a wetland management strategy coordination team on October 30, 2020 and tasked it with accelerating the attainment of sustainable development goals.
Proper mangrove and peatland conservation and management will support the target of greenhouse gas reduction and prevent the release of carbon stored in the two ecosystems, Rudiyanto said.
The roadmap for the management of wetlands would help achieve several targets of sustainable development in 2030.
To support the mangrove rehabilitation program, large-scale nurseries will need to be developed in various regions.
The Ministry of Marine Affairs and Fisheries (KKP) recently built a mangrove nursery in Pasuruan district, East Java.
TB Haeru Rahayu, director general of marine space management at the KKP, explained that the mangrove nursery in Pasuruan has primarily been set up to ensure the availability of mangrove seeds to meet the needs of mangrove nurseries and for planting and rehabilitation efforts.
The Mangrove Center of Excellence Program aims to produce 100 million seedlings for mangrove planting programs in Indonesia. The nursery spans 3,093 square meters and houses 500 thousand seedlings of the species Rhizophora sp.
It has been built by the Ministry of Maritime Affairs and Fisheries through the directorate general of marine space management using funds from the additional budget for the National Economic Recovery Program (PEN) for the 2020 fiscal year.
This story, originally published by ANTARA News, has been shared as part of World News Day 2021, a global campaign to highlight the critical role of fact-based journalism in providing trustworthy news and information in service of humanity. #JournalismMatters.