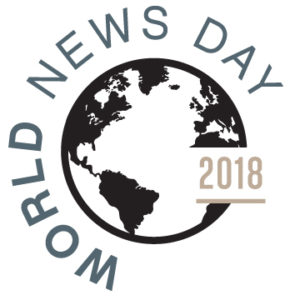 Inaugural Event — Toronto 2018
WORLD NEWS DAY – WHY REAL NEWS MATTERS MORE THAN EVER
Thursday, May 3, 6pm – CBC'S Barbara Frum Atrium, 250 Front St. W.
Our inaugural event featured journalists and citizens sharing stories about the power of journalism and how it effected change in their lives.
Ian Hanomansing, co-host of CBC's The National, hosted the event, which featured live musical performances by Polaris Music Prize winner Lido Pimienta, Juno-nominated Canadian artists Iskwé, Daniel Romano, and Leah and Peter from July Talk.
MONTRÉAL
Le jeudi 3 mai, dès 17h30 – Écomusée du fier monde, 2050, rue Amherst, Montréal.
Des services gouvernementaux qui laissent des enfants pour compte, des décennies d'abus dans des communautés autochtones, des parcours d'immigrants qui souhaitent s'intégrer au marché du travail, les efforts de propriétaires lésés pour faire reconnaitre leurs droits ; toutes ces histoires et bien d'autres encore, ce sont les journalises qui nous les font connaître. Et, parfois, elles changent des vies.
Venez entendre les témoignages de gens pour qui un reportage a fait une différence dans leur vie, lors d'un cocktail dînatoire animé par Marie-Maude Denis et Patrick Lagacé.
La Fondation pour le journalisme canadien vous invite à célébrer la journée mondiale de l'information, en partenariat avec la FPJQ, lors de la journée mondiale pour la liberté de la presse, le 3 mai prochain.
Les billets sont en vente au coût de 25 $ + taxes. Réservez votre place au 514-522-6142 ou en ligne.