Meet the Indian teenager who has created a new kind of toothbrush that is designed to reduce plastic waste. Here, Saumya Chauhan, a student journalist for The Global Times at Amity International School in India, profiles the inventor, Dhruvi Gupta. The story is part of the World Teenage Reporting Project — Climate Champion Profiles.
Saumya Chauhan, currently a student at Amity International School, Pushp Vihar, is an avid writer and contributes regularly for The Global Times newspaper. A member of the school Student Council, Director of the school's Interact (social wellness) club and an active environmentalist; she aspires to bring change in her community.
There is no planet B. And yet not many of us are walking the path that can help us save the planet we have. Dhruvi Gupta, a student of Class IX at Amity International School Vasundhara 6, is one of the select few who has chosen to walk the road less taken. With her innovation 'Easy Brush', she has not only rehashed the everyday task of brushing one's teeth, but also minimising the waste that comes with using plastic toothbrushes. Dhruvi talks about how the idea of combining oral hygiene and concern for the environment took shape, the challenges, and what she hopes to see next both for herself and for the planet.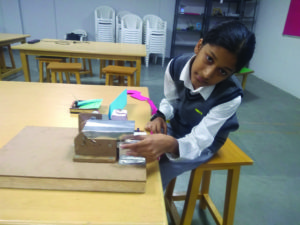 Toothbrush inventor Dhruvi Gupta
What inspired you to create a recyclable toothbrush?
I was travelling on a train when I noticed some vendors selling plastic toothbrush. As several people purchased the toothbrush, I pondered over the amount of plastic waste this single, frail-looking item would create. A little while later on the same journey as I used paper soap to wash my hands, I thought that if we could have an eco-friendly medium for a daily activity like washing hands, then why not use the same for brushing teeth.
Could you tell us how this toothbrush functions?
The toothbrush entails a very simple mechanism a paper strip that can be wrapped around one's finger using an interlock system. One simply needs to dip this toothbrush in water and brush his/her teeth. Once used, it can easily be disposed of.
Why did you choose a toothbrush over other products?
600 million kg — that is the amount of plastic waste created every single year simply due to the disposal of plastic toothbrushes. This plastic can take almost 700 years to decompose as it is non-biodegradable. Since almost everyone uses toothbrushes on a daily basis, I thought of creating a biodegradable version to reduce waste.
Are these toothbrushes single use? If so, how can waste be reduced?
Yes, these toothbrushes are single-use, but the difference is that they are biodegradable and decompose after one or two weeks. These toothbrushes are also soluble in water which makes disposal easier. I have tested different kinds of paper to ensure durability and biodegradability, and reduce waste generation.
Can you walk us through the details of how this invention can save the planet?
This toothbrush is biodegradable; the components of the paste on the paper are herbal and the materials used to make the brush are herbal. The manufacturing would also be done in an eco-friendly manner. All these factors ensure that this product limits waste generation, thereby contributing to saving the planet.
Did you face any challenges while you were working on the toothbrush?
I faced a lot of challenges during this process. Creating a product that is meant for the masses means evaluating it on multiple criteria such as ease of usage, accessibility, cost and the like. At first, I was unsure as to how to go about it. But then, with the help of my school and teachers, I kept overcoming each challenge.
I created a survey that would help me understand the needs and expectations of my target audience. Ensuring that this survey is filled out by a significant number in itself was a task. The results of the survey helped me work on the problem of dispensing the product in a way that made it accessible and more eco-friendly.
Then there was the challenge of ensuring that people understand the concept of an unconventional toothbrush such as this and that it is just as effective. I also wanted the brush to reach all sections of society, which meant that I had to be mindful of the cost. Lastly, I also had to experiment with different recipes to make sure that the taste of the paste was appropriate for users.
In light of the current pandemic, we should be mindful of spreading infection. Since the toothbrush attaches to your finger, do you think that would be considered unsanitary? What precautions have been included in your design for the same, if any?
This product has been made under sterile conditions. After production, the pH levels of the brush were checked, and bacterial tests were also conducted. Since this product is related to health, I ensured that the hygiene aspect was taken care of. In India, people used daatun (tree twigs) that was held with fingers. This method has proven to be successful and if people wash their hands before use, there should be no problem.
Coming from your previous answer, traditionally in India, we used 'daatun'/or dipped finger in toothpowder to clean. So how is this product different and better than that?
Daatuns are not used anymore as they are wooden and as a result, they wear off your gums and the skin of your cheeks. Tiny perforations on my toothbrush ensure that your teeth are cleaned without harm. Furthermore, herbal products which were not present in daatuns are used in the paste to ensure that the teeth become stronger.
Consumers often look for convenience, ignoring biodegradability. How would you convince people to use this eco-friendly alternative?
The 'Easy Brush' is easy to use, convenient and portable, which are all factors a consumer looks for in a product. I will make sure that this product is as accessible and cost-effective as a regular toothbrush. The herbal component will also attract consumers who are interested in natural ways to improve oral hygiene.
Do you have plans to expand this idea to other products in order to reduce plastic usage?
At present, I am focusing on creating a dispensing method for the brush so that it can reach all sections of society. I want to send this product to space and military agencies for testing as this is something that would be useful to them. I have also filed for a patent of this project. In the future, I would be working on other eco-friendly alternatives as well.
Do you think teens today are becoming more conscious of saving their environment? Being 'just teens', can they be as effective as adults?
I believe that irrespective of your age if you have dedication towards something, you can surely achieve it. Having said that, problems like global warming and climate change are more prevalent than ever today. Our earlier generations have lived in a world where it was not as relevant. Teens, on the other hand, are experiencing these problems and the following repercussions first-hand. Thus, they fully realise the impact these problems can have on their future. As a result, I feel the dedication of teens towards solving these issues is bound to be higher.
What are your hopes and fears regarding our environment?
Over the past few years, our environment has severely degraded. Renewable resources like air and water, of which we thought we would have an endless supply, are rapidly diminishing. Since teens, and others too, are becoming more aware of the situation, it makes me hopeful for our planet. A self-sufficient society is being created gradually and so many programmes are being launched in favour of the climate. Each citizen needs to be aware of their responsibility towards our planet in order to truly save it.
Who is your role model?
My mentor teacher and my mother have been my role models along this journey because they have helped me immensely and I have learnt so much from them. Dr. Vikram Sarabhai, a renowned Indian physicist, inspires me to overcome my struggles and achieve my goals. I also look up to Greta Thunberg as well because she has motivated me and millions of other teens to act for our climate. I believe that if everyone has a good role model, then we can truly make a difference in this world.
This story, first published by The Global Times, has been shared as part of World News Day 2021, a global campaign to highlight the critical role of fact-based journalism in providing trustworthy news and information in service of humanity. #JournalismMatters.