Hartals are a common problem that is unique to Kerala.
The local name refers to a total shutdown of civic activities caused by strikes, including the halting of vehicle movements.
In past years, the state had commonly witnessed around 100 statewide hartals annually. In 2017 the number of hartals reached nearly 120 for that year.
These strikes flared up in numerous districts, taluks (an administrative division) and panchayat levels (units of local administration).
The state was in a dire position, as the monetary and other losses amounted to millions of rupees.
The fatal and non-fatal damage caused by hartals were also innumerable.
Coming to be known as the graveyard of industries, Kerala was losing crores (tens of millions) to the exchequer.
Even court interventions could not prevent the country's biggest human rights violation caused by these hartals.
The supporters of the strikes resorted to taking the law into their own hands and many patients were reported to have lost their lives due to their late arrival to hospitals.
Though many voluntary organisations and civil right forums had campaigned against hartals for the last two decades, no change had happened because of the political patronage hartal supporters received. All most all hartals were declared by political, religious or other such organisations.
Their substantial influence could be seen in July to August 2018, when Kerala suffered a terrible deluge.
It was the worst flood Kerala had experienced in nearly a century. Over 483 people died, and many went missing.
About a million people were evacuated. One-sixth of the total population of Kerala had been directly affected by the floods and the Union government had declared it a Level 3 Calamity.
Even though the rebuilding of the state demanded highest priority, various political parties still found a reason to paralyse reconstruction efforts by declaring Hartal based on scanty  grounds.
To counter this, Metro Vaartha, the morning Malayalam newspaper published by the Vaartha News Network Limited, decided to launch a campaign during October 2018 to fight against the Hartal menace.
The paper released a news package on hartals, comprising of stories, editorials and comments from readers and the civil society.
This led to a revolutionary turn of events.
Shop venders, industrialists and the common public jointly decided not to support the hartals from that month onward.
Even some of its supporters resisted ensuing national strikes and shared their concerns about their affected livelihoods during the days of the strike.
They demanded that leaders let them go free from the strike.
People from fields of tourism, education, transport, hotels and even auto rickshaw employees were also against the strike.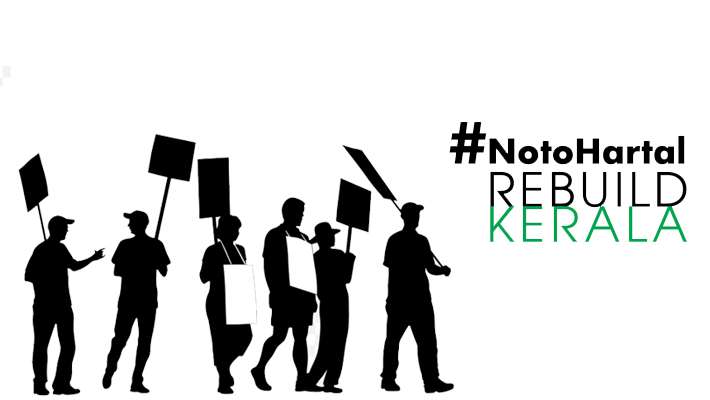 However, it is still hoped that political and trade union organisations may one day display the integrity to support these people who said 'No to Hartal'.
This is the time to recognise that, it is impossible to bear any more hartals that are totally destructive to the entire state of Kerala.
Though the authorities were silent initially, they have been forced to open their mouths. Many organisations went to court seeking a ban on hartals.
The Police Chief of the state came forth with some directives to be followed by the supporters and organisers of the hartal.
The High Court of Kerala issued a notice to the Government of Kerala asking them for reasons why it cannot be banned.
On January 2019, New Year Day, Metro Vaartha again reminded Kerala of its priorities and requested that all refrain from announcing hartals.
On 7th January 2019, the Kerala High Court stepped in and passed an order banning flash hartals.
The Court held that any group who wishes to call for a hartal should declare it seven days prior and any citizen could approach the court, challenging the hartal during this  seven-day notice period.
The order was passed by a division bench of Chief Justice Hrishikesh Roy and Justice AK Jayasankaran Nambiar on a Public Interest Litigation filed by the Kerala Chamber of Commerce and Industry.
Slowly, the hartals dwindled in numbers and in March 2019, the battle against them was won as the hartals finally ceased for good.
This story is a compilation of a series of articles published by Metro Vaartha from October 20 to 26, 2018.
BEHIND THE STORY
In 2018, Kerala faced more than a hundred hartals – strikes that put a standstill to public lives – during the last year, causing a loss of more than Rs One lakh crore (US$ 14 billion). Metro Vaartha daily successfully carried out a campaign in October 2018 to create awareness among the public about the ill-fated over flow of Hartals. A series comprising of stories, an editorial and numerous comments from readers and the civil society were published by a team of reporters from Metro Vaartha. The aim was to inform the general public and various segments of society about these unwanted strikes and their harmful and counterproductive nature. On 19 October 2018, Metro Vaartha carried a Page 1 story titled "So far 78 Hartals this Year" followed by a strong Editorial on its front page. The response from the public was overwhelming and the paper received the whole hearted support of the general public, who were initially reluctant to come forward. Apart from civic and social groups, industrialists, professionals, educational institutions, business men and local merchants came forward to speak out against the hartals. Many business organisations also declared that they would not participate in hartals and keep their establishments open during the strikes.