Surya and Perumal are two illegal immigrants who have been living in Singapore for the past five years. On Nov 26, both will be sent back to their homeland – India – along with 48 others at a cost of about $50,000 (USD $36,300).
What's so special about their return? Well, they are not humans – but Indian star tortoises who are now a step away from being listed as an endangered species under the International Union for Conservation of Nature (IUCN).
The 50 Indian star tortoises who were smuggled into Singapore are lucky: They will enjoy a safe return home on Singapore Airlines as a result of an initiative by the animal welfare group Animal Concerns Research and Education Society (Acres). They were rescued by members of Acres at various times and locations in Singapore over the past five years. This species, which is native to India and Sri Lanka, is noted for its distinctive star-patterned shells.
Indian star tortoises are seen as symbols of longevity by many. According to Ms Anbarasi Boopal, Acres' deputy chief executive, they are also believed to lengthen a person's lifespan if they are kept as pets.
She added: "These tortoises are meant to live in arid or dry climates and are not suitable for the humid weather of Singapore. By bringing them in illegally, these animals go through a great deal of torment." The Convention on International Trade in Endangered
Species of Wild Fauna and Flora (CITES), of which Singapore is a signatory, protects the Indian star tortoises and bans their international trade.
WOES OF ILLEGAL TRADING
Despite international sanctions, between 10,000 and 20,000 Indian star tortoises are smuggled out of India annually. They are usually taken to countries such as Thailand and Malaysia before being smuggled into Singapore, said Ms Anbarasi.
After being snatched from their natural habitat, they are drugged and restrained in tight compartments like suitcases. After which they endure long travel with little breathing space. Many of them don't survive. Some that do become household pets. But, just like used toys, some owners get bored of them or simply cannot maintain them any more and release them.
Around a hundred of such abandoned tortoises have been rescued by Acres over the past nine years and have been fostered in their wildlife sanctuary. Next month, the 50 Indian star tortoises will be sent on a flight to Bangalore and subsequently to an appropriate wildlife sanctuary. SIA will absorb the flight costs.
"They will be packed in containers which are in full compliance with the IATA Live Animals Regulations. They will be loaded in cargo compartments with temperature control and ventilation," said an SIA spokesperson.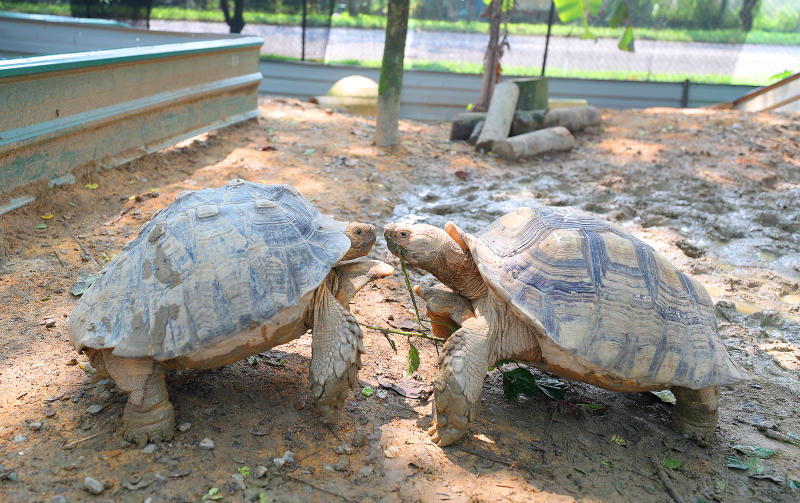 Agri-Food and Veterinary Authority of Singapore (AVA) has also expressed its support for the repatriation.
Since 2013, the AVA has handled more than 100 cases of illegal possession of wildlife in Singapore. Of these, 17 involved Indian star tortoises.
Enforcement action, such as prosecution in court, was taken and the seized tortoises were sent to the Wildlife Reserves Singapore (WRS).
"In this case, we engaged the Indian authorities and issued a CITES permit to Acres to repatriate the star tortoises to India," said an AVA spokesperson.
HIGH PRICE TAG
Repatriating these tortoises comes with a price tag of at least $50,000 and Acres being a non-governmental organisation is entirely dependent on public funds to carry out the process, pointed out Ms Anbarasi.'
"The funds collected will be channelled towards flight tickets for personnel accompanying the tortoises, land transfer, specially-designed transportation crates, food for the animals during quarantine, erecting a soft-release enclosure with CCTV cameras and micro-chipping, manpower for daily monitoring and caring and quarantine and blood tests," she said.
Acres is now collecting funds through crowd-funding websites Giving.sg! and GIVE.asia. Coupled with money given by their regular donors, the amount collected now stands at around $21,000.
Minister for Home Affairs and Law K. Shanmugam has supported the Acres initiative. He said in a Facebook posting: "Currently, Acres is trying to repatriate the Indian Star Tortoises back to India where they belong. It is a challenging task for the team and they are looking to raise funds to help in this exercise. You can visit the site link they have provided to learn more and extend a helping hand. Do help spread the word."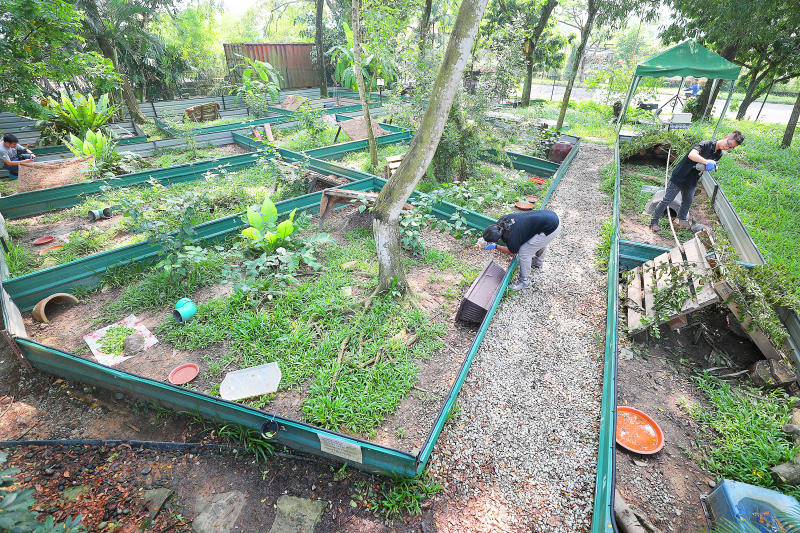 Apart from local organisations, Acres has also reached out to Wildlife SOS India, which has agreed to support this cause. It is a non-profit conservation outfit based in India that has been actively involved in protecting, rescuing and rehabilitating wildlife.
"A team comprising a veterinary doctor, documentation expert and liaison officer will travel to Singapore and accompany the tortoises and the Acres team back to India," said Mr Kartick Satyanarayan, the co-founder and chairman of Wildlife SOS India .
"They have been working closely with the state forest department to identify a suitable location for the release of these tortoises into their natural habitat. They will install radio telemetry devices to carry out post-release monitoring to ensure the tortoises' survival in the wild."
This story was first published in Tabla! on November 2, 2018.
BEHIND THE STORY
Journalist Venga first found about the repatriation of the Indian Star Tortoises repatriation by Acres (Animal Concerns Research and Education Society) from the crowdfunding websites https://www.giving.sg/web/acres and https://give.asia/campaign/help-us-repatriate-our-indian-star-tortoises. The Facebook page of Acres had also shared some details of the project. The fact that the tortoises were a species native to India and that Acres had actually given the tortoises names such as 'Surya' and 'Perumal' caught the attention of the journalist who then pitched the story to the editorial team. Garnering the approval of the editor, Venga went to the Acres office on that afternoon itself. It was a Monday afternoon on a 22nd October 2018 when Venga first did the interview with Anbarasi Boopal, Deputy CEO of Acres who enlightened Venga with many details of the repatriation project. This included the common routes used to smuggle the star tortoises and that SIA will be sponsoring the flight cost of the tortoises.
Hearing the information, the editorial team of Tamil Murasu had thought that we could run a full feature on the story accompanying an Infographic. Art Editor Peter Thomas William played a crucial role in guiding the infographic to its final outcome and also suggested to do a video story. Having agreed upon the idea, Venga then arranged for videographer Gregory Marc Loo and did the video interview with Acres. The video comprised of the star tortoises, their living conditions, treatment received and information on their repatriation. Venga also did a PTC both in Tamil for Tamil Murasu and in English for Tabla!
Subsequently, an infographic for both Tamil and English was arranged by Venga with information on the common smuggling routes illustrated by the guiding arrows on a world map, coupled with essential facts and figures on the Star tortoises. Last but not least, two full-length features were written for both Tamil Murasu and Tabla! Including the infographic. All this work was done in just under a week. The team along with Venga did not want to wait to release this exclusive story.
The story along with the video was published on Tamil Murasu on 28th October 2018 whereas it was published on Tabla! on 2nd November.
The Acres tortoise repatriation story was published as features in both Tamil Murasu and Tabla!. The story came with an infographic and an accompanying a video story which was well received by the community at large.