They flee from poverty and violence to seek a better life in Central America.
Yet, their journey through Mexico remains rife with discrimination and harassment because of their sexual preference
That is the road trodden by migrants from the Lesbian, Gay, Bisexual, Transvestite, Transsexual and Intersexual (LGBTTI) community that photographer Roberto Hernández spoke to.
They were part of the second migrant caravan, made up of Central Americans and Cubans, heading towards the United States. The group arrived in Mexico on October 2018 after riding for miles.
Most Mexicans, normally in solidarity with their southern neighbours, are racist and xenophobic towards the LGBTII migrants.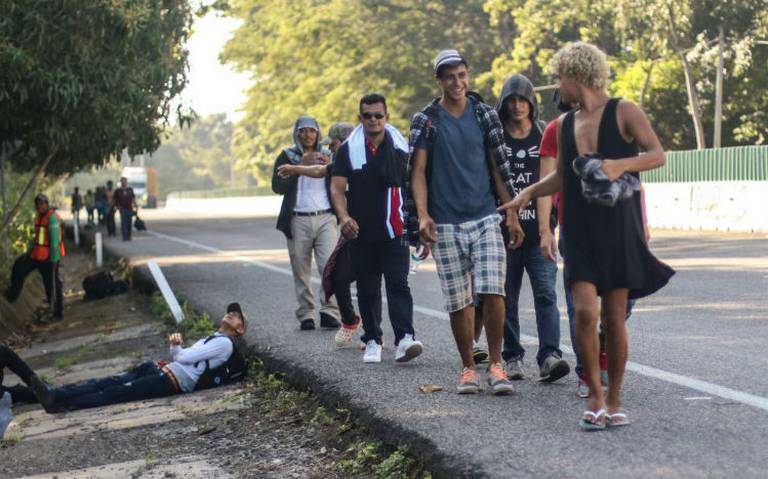 Roberto, however, looked past their hostility and threatening attitudes and approached them in order to share their stories with Mexican readers.
"I asked him for an apology for addressing (him) and explained that it was important for me to know his story, that it might not help him at the moment, or even her, but that maybe it could be a story that would serve to make known the condition of other people from the LGBTTI community who were part of the caravans," said Roberto, who empathised with their plight.
Gaining their trust took sincerity and effort.
"I approached (and) introduced myself, and she, Daphne Wahington, first gave me an annoyed look. She gave me her name angrily because she thought I was yet another person who was trying to harass her. I asked her how she was and how the road was going. She replied saying what was the use of talking to me if I was not going to give her food or money. I kept imagining how difficult it was (for the LGBTTI community) to even (be) approach(ed) for an interview, specifically if you were a gay out there that was being bothered," said the photographer.
The authorities do not recognise them as people who are victims of violence and many of them stay in their caravans as it is the only way to keep themselves from being victims of highly organised crime in Mexico.
Since the migrant caravans developed at the end of 2018, LGBTTI communities generally walk very long distances. They always go to the end or they are relegated to the back mainly because they fear for their lives, said Rubén Zuñiga, reporter from Diario del Sur newspaper, who lives close to the migratory route, on the border between Mexico and Guatemala.
Finding out more about their plight, however, was not easy.
In Mexico, anti-immigrant sentiments arose due to the inconvenience caused by such an enormous flow of people through the communities.
The first caravan to enter the country was received with open arms. Shelters were packed with food, clothing and donations from people who sympathised with the Central Americans. Armies of volunteers helped migrants on their journey.
The second caravan was not so lucky.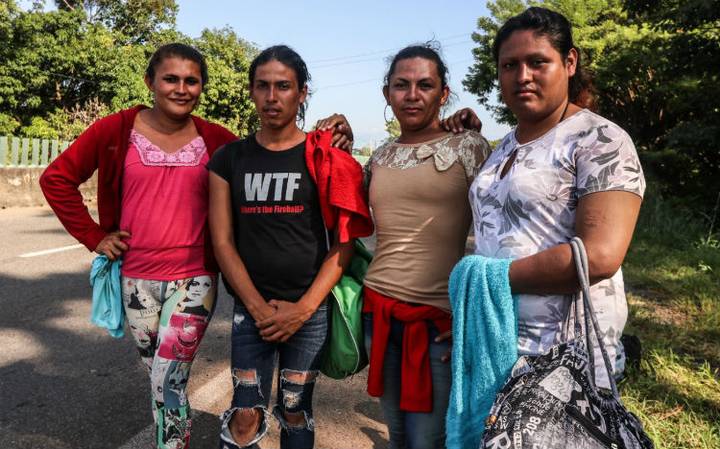 In cities like Tapachula, the migrants were accused of scandalising, vandalising and dirtying the city.
Migrants from the LGBTTI community were accused of practising prostitution, a job they were required to take on in their countries of origin because they did not receive opportunities for other work. Just because of their sexual orientation.
"Later on the road I found other trans girls who had previously taken pictures of themselves while they were travelling. I approached them to ask for their testimony, but they got very upset. They were fed up of just talking and crying about what happened to them without anybody helping. According to them, people only talked to them because of their condition. I apologised before walking away, " said Roberto.
Although LGBTTI communities travel through Mexico, they are rarely seen as many of them try to stay out of public eye.
The authorities do not recognise them as people who are victims of violence and many of them stay in their caravans as it is the only way to keep themselves from being victims of highly organised crime in Mexico.
Roberto said: "When I covered the LGBTTI community, I felt good about making this part of the caravans known. From my knowledge, there had already been coverage of women with children, gang members and children travelling alone, but very little is known of this (LGBTTI) community, as well as disabled people, who also travel in caravans without medication or support they require in their day-to-day lives. "
The article, Double Discrimination: Migrants From The LGBT Community Denounce Abuse In The Caravans, helped the LGBTTI community voice out their problems throughout Mexico when it was released.
Colleagues from other media outlets also reached out to Roberto to contact the community.
"Some time later, I read through notes of their passage through Veracruz, Puebla, Tijuana and I was pleased to read that the community was made visible," he added.
"Even when they arrived in Mexico City, organisations in defence of rights of the LGBTTI community had already prepared some support and various activities to alleviate the substandard circumstances they face throughout their trip ," Roberto said with satisfaction.
His coverage led non-governmental organisations, who defend human rights and treat diseases such as HIV / AIDS,to deploy support groups for these people in several cities between the northern and southern borders of Mexico.
This story by Roberto Hernández was originally published by El Sol de México on Oct 31, 2018.
---
BEHIND THE STORY
On October 31, 2018, photographer Roberto Hernández published his article that documented the daily life of the LGBTTI migrant caravan en route to the US. His article cast a spotlight on these individuals, who are considered third-party citizens to Mexico, and helped gather support from various organisations. Of his effort, he said: "I think that the article made known certain aspects of the phenomenon. In part, the information has helped migrants, regardless of whether they told their story with a good or bad attitude ".